Voice Lab Interface¶
Voice Lab is an automated voice analysis software. What this software does is allow you to measure, manipulate, and visualize many voices at once, without messing with analysis parameters. You can also save all of your data, analysis parameters, manipulated voices, and full colour spectrograms with the press of one button.
Voice Lab is written in Python and relies heavily on a package called parselmouth-praat. parselmouth-praat is a Python package that essentially turns Praat's source code written in C and C++ into a Pythonic interface. What that means is that any praat measurement in this software is using actual Praat source code, so you can trust the underlying algorithms. Voice Lab figures out all of the analysis parameters for you, but you can always use your own, and these are the same parameters as in Praat, and they do the exact same thing because it is Praat's source code powering everything. That means if you are a beginner an expert, or anything in-between, you can use this software to automate your acoustical analyses.
All of the code is open source and available on our GitHub repository, so if this manual isn't in-depth enough, and you want to see exactly what's going on, go for it. It is under the MIT license, so you are free to do what you like with the software as long as you give us credit. For more info on that license, see here.
Load Voices Tab¶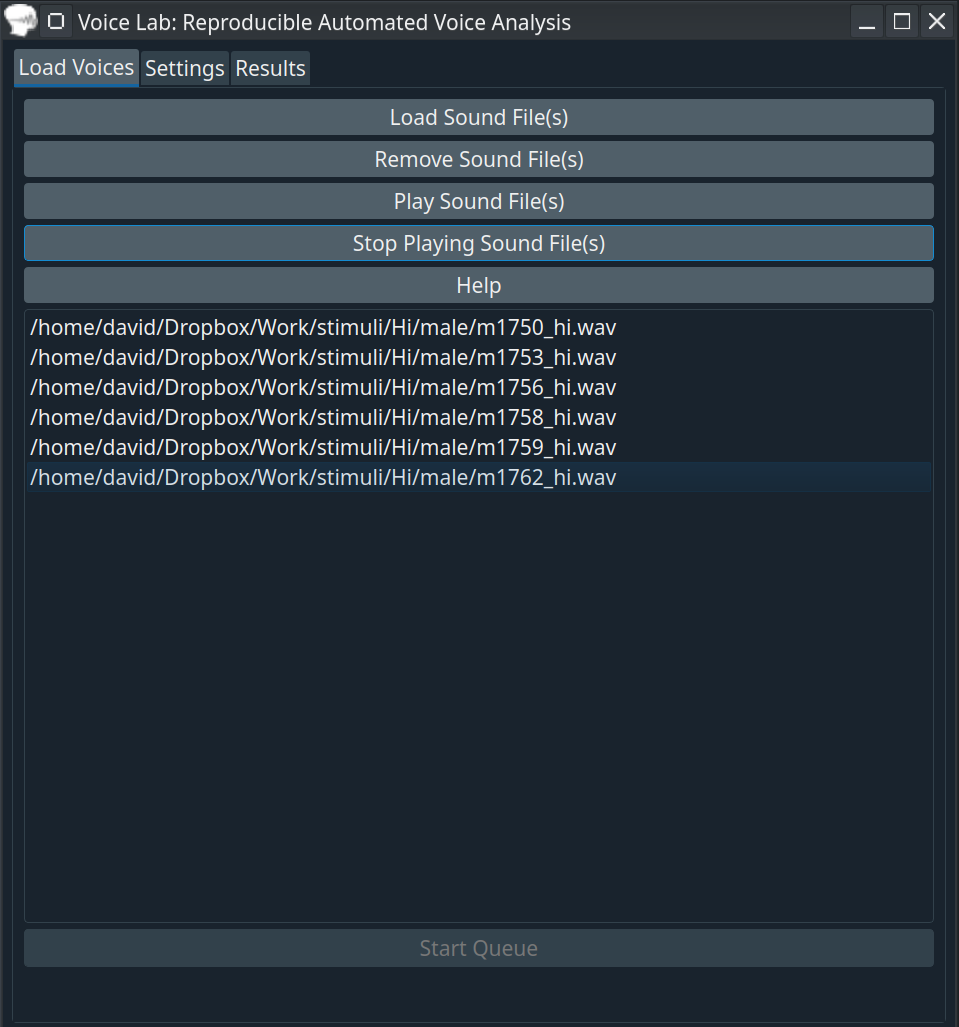 Load Sound File¶
Press this button to load sound files. You can load as many files as you like. At the moment, Voice Lab processes the following file types:
wav

mp3

aiff

ogg

aifc

au

nist

flac
Remove Sound File¶
Use this button to remove the selected sound file(s) from the list.
Start¶
Pressing this begins analysis. If you want to run the default analysis, press this button. If you want to select different analyses or adjust analysis parameters, go to the 'Settings' tab and press the 'Advanced Settings' button. Only the files selected (in blue) will be analyzed. By default we will select all files.
Settings Tab¶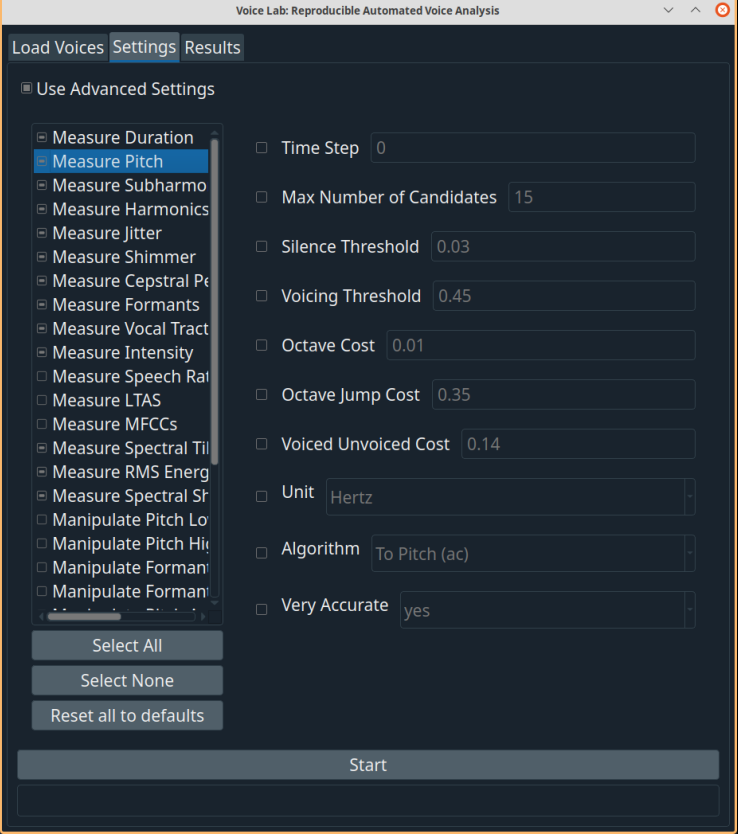 To choose different analyses, select the Use Advanced Settings checkbox. From here, you'll be given the option to select different analyses. You can also change any analysis parameters. If you do change analysis parameters, make sure you know what you are doing, and remember that those same analysis parameters will be used on all voice files that are selected. If you don't alter these parameters, we determine analysis parameters automatically for you, so they are tailored for each voice to give the best measurements.
Save Results¶
Save Results saves two xlsx files. One is the results.xlsx file and one is the settings.xlsx file. Here you can choose the directory you want to save the files into. You don't have to click on a file, just go to the directory and press the button.
results.xlsx¶
The results file saves all of the voice measurements that you made. Each measurement gets a separate tab in the xlsx file.
settings.xlsx¶
This file saves all of the parameters used in each measurement. Each measurement gets a separate tab in the xlsx file. This is great if you want to know what happened. It can also accompany a manuscript or paper to help others replicate analyses.
Results Tab¶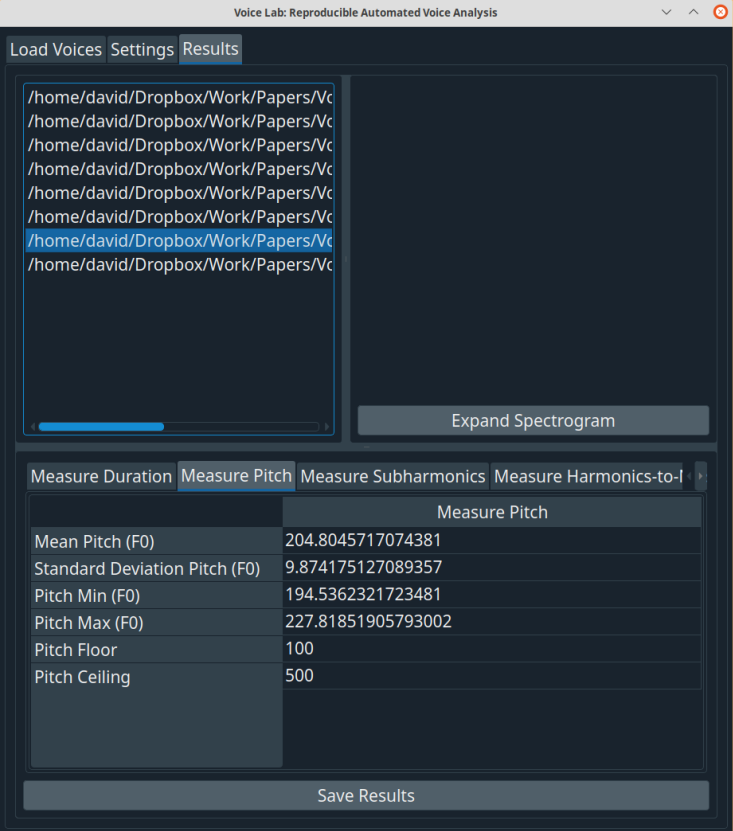 This is where you can view results. You can select each voice file on the left and view each measurement result on the bottom frame. You can also view your spectrograms in the spectrogram window. You can change the size of any of these frames in order to see things better. Press Save Results to save data. All data (results & settings), manipulated voices, and spectrograms are saved automatically when this button is pressed. All you have to do is choose which folder to save into. Don't worry about picking file names, Voice Lab will make those automatically for you.
Output formats¶
All data files are saved as xlsx

All sound files are saved as wav

All image files are saved as png
Documentation and API Reference¶
This API is not yet complete. It is a work in progress. But, for now, there's enough for you to run any node as long as you can understand the code. Reproducing Voicelab's exact behaviour in the command line is a bit more difficult as there is a state dictionary and and end() method for some nodes.
All nodes can be imported and run without the VoiceLab GUI if you program their execution in Python.
You'll need to supply: args['file_path'], which is the file path, and args['voice'], which is the parselmouth.Sound object created by running parselmouth.Sound(args['file_path']). You may also set additional parameters by creating an instance of a node, and setting the dictionary args to the appropriate values as specified in each node. The output of each node is a dictionary of the results. If the node is a manipulation node, it will return a parselmouth.Sound object. If the node is a plot, it will return a matplotlib figure. Otherwise, it will return mixed types of floats, integers, strings, and lists in the dictionary.
Validation analyses for automatic analysis settings and Energy can be found `here<https://osf.io/3wr6k/files/>`_.
Code Examples¶
Measure Pitch¶
from

 

Voicelab.toolkits.Voicelab.MeasurePitchNode

 

import

 

MeasurePitchNode





measure_pitch_node

 

=

 

MeasurePitchNode

()




measure_pitch_node

.

args

[

'file_path'

]

 

=

 

"my_voice_recording.wav"




results

 

=

 

measure_pitch_node

.

process

()




print

(

results

[

'Mean Pitch (F0) (Praat To Pitch (ac))'

])





>>

 

248.49414267168498



Lower Pitch and Formants¶
from

 

Voicelab.toolkits.Voicelab.ManipulateLowerPitchAndFormantsNode

 

import

 

ManipulateLowerPitchAndFormantsNode





lower_pitch_and_formants_node

 

=

 

ManipulateLowerPitchAndFormantsNode

()




lower_pitch_and_formants_node

.

args

[

'file_path'

]

 

=

 

"/home/david/Desktop/Tests/w50uw.wav"




results

 

=

 

lower_pitch_and_formants_node

.

process

()




results

[

'voice'

]

.

save

(

file_path

=

'w50uw-lower-pitch.wav'

,

 

format

=

'WAV'

)



Get parameters from a measurement node¶
from

 

Voicelab.toolkits.Voicelab.MeasureIntensityNode

 

import

 

MeasureIntensityNode





measure_intensity_node

 

=

 

MeasureIntensityNode

()




measure_intensity_node

.

args

[

'file_path'

]

 

=

 

"/home/david/Desktop/Tests/w50uw.wav"




results

 

=

 

measure_intensity_node

.

process

()




print

(

measure_intensity_node

.

args

)



Measure Vocal Tract Estimates from a CSV file of Formant Frequencies measured in some other software¶
from

 

Voicelab.toolkits.Voicelab.MeasureIntensityNode

 

import

 

MeasureIntensityNode





measure_intensity_node

 

=

 

MeasureIntensityNode

()




measure_intensity_node

.

args

[

'file_path'

]

 

=

 

"/home/david/Desktop/Tests/w50uw.wav"




results

 

=

 

measure_intensity_node

.

process

()




print

(

measure_intensity_node

.

args

)